"AVAILABLE DATA INSUFFICIENT"

This article is a stub or needs expansion. Help Xenopedia by expanding it.
Specific Expansion Needed: Plot section required
Aliens: Labyrinth, also known as Aliens, Vol. 7: Labyrinth, is a four-issue limited comic book series that was first published by Dark Horse Comics from September 1993-January 1994. It was written by Jim Woodring, illustrated by Kilian Plunkett, colored by Matt Hollingsworth, lettered by Ellie De Ville, and edited by Ryder Windham, with cover art by Plunkett. The series was preceded by the short story prequel Aliens: Backsplash, produced by the same creative team.
In the Aliens comics line, Aliens: Labyrinth was preceded by Aliens: Taste, published concurrently with Aliens: Colonial Marines, Aliens: Earth Angel, Aliens: Crusade, Aliens: Backsplash, Aliens: Salvation, Aliens: Cargo, Aliens: Alien, Aliens: Music of the Spears and Operation: Aliens, and was followed by Aliens: Stronghold.
Labyrinth was later adapted as a novel of the same name by S. D. Perry, published in 1996.
Publisher's Summary
#1: Aliens may be virtually impossible to control, but what if man could anticipate their actions? In a deep space research station, Dr. Paul Church studies Alien behavioral responses. How does an Alien track its prey? Can an Alien distinguish whether a human is armed? Will an Alien ever retreat from an attack? Test after test, patterns of behavior are revealed to Church... patterns which are predictable.
The station is carefully supervised; every precaution is taken, but everyone knows the risks. When an apparent saboteur is killed by an escaped Alien, the site of scientific research gives way to a homicide investigation. Col. Dr. Anthony Crespi, the stalwart survivor of Aliens: Backsplash (featured in Dark Horse Comics #12 and 13), suspects that the Alien subject may not have escaped on its own, and is determined to uncover the truth.
#2: In an acid-resistant lab, Col. Anthony Crespi assists Dr. Paul Church with an Alien autopsy, and reveals the inner workings of the biomechanical creatures. Crespi is in for even more dangerous revelations, as he and Lt. Sharon McGuinness continue their investigation into the death of a fellow crewman.
#3: Col. Dr. Crespi continues his unrelenting hunt to catch a killer aboard the Innominata, but he gets more than he bargained for when he questions Dr. Church. In a nightmarish flashback sequence, Church recounts the grizzly details of how he survived in an Alien hive. Fans won't want to miss this glimpse into the Aliens' inner sanctum!
#4: Tony Crespi has narrowed down his list of suspects for the Innominata slayings: Admiral Thaves wanted Mortenson's body for spare parts; Dr. Church wants to continue his bizarre Aliens experiments; and Lt. Sharon McGuinness wants revenge for her fiancé's death. Crespi may reveal the killer, but no one can be prepared for the shocking conclusion of Aliens: Labyrinth.
Reprint History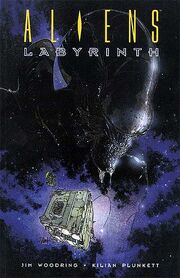 Aliens: Labyrinth series was later collected, along with its prequel story Aliens: Backsplash, as a trade paperback in August 1995, edited by Lynn Adair with a new cover by Kilian Plunkett.
It was again collected and released in May 1997, as Aliens, Vol. 7: Labyrinth. This release was part of Dark Horse's "remastered" Aliens Library Editions series — reprints that attempted to bring the content of all of Dark Horse's previously released Aliens comics in line with the updated continuity presented by Alien3. The Labyrinth trade paperback was edited by Adair and featured a new cover by John Bolton.
Aliens: Labyrinth was again collected as part of Aliens Omnibus: Volume 3 in March 2008.
The complete comic was released digitally through Dark Horse Digital on March 20, 2013, reusing Plunkett's cover art from the trade paperback release.
The series was collected and released again as part of Aliens: The Essential Comics Volume 2, released on August 25, 2020.
Behind the Scenes
Labyrinth and its prequel story Aliens: Backsplash represented the first American comic book work for Irish artist Kilian Plunkett, who got the job via submitting artwork at comics conventions, eventually catching the eye of Dark Horse Comics editor Ryder Windham. Plunkett would go on to a noteworthy career as a cover painter at Dark Horse, working on numerous other Aliens projects, including the UK-based Aliens magazine, and later on several Star Wars comics. He currently works as one of the main character designers on Cartoon Network's Star Wars The Clone Wars animated series.
Windham also had a storied career as Dark Horse's main Star Wars editor for a time, leading in part to a number of talented creators, such as Plunkett, transitioning from the Aliens line to the Star Wars line.
Gallery
Issue covers
Other
Community content is available under
CC-BY-SA
unless otherwise noted.