Wiki Targeted (Entertainment)
Play Sound
"AVAILABLE DATA INSUFFICIENT"

This article is a stub or needs expansion. Help Xenopedia by expanding it.
Specific Expansion Needed: Plot section required
Aliens: Harvest, originally titled Aliens: Hive and also known as Aliens, Vol. 5: Harvest, is a 4-issue limited comic book series that was first published by Dark Horse Comics from February-May 1992. It was written by Jerry Prosser, illustrated by Kelley Jones, colored by Les Dorscheid, lettered by Clem Robins, and edited by Barbara Kesel, with cover art by Jones.
In the Aliens comics line, Aliens: Harvest was preceded by Aliens: Genocide, published concurrently with Aliens: Tribes and Alien3: Alone, and was followed by the movie adaptations Aliens: Newt's Tale and Alien3.
Harvest was later adapted as the novel Aliens: Alien Harvest by Robert Sheckley, published in 1995.
Publisher's Summary
#1: Stanislaw Mayakovsky once wrote a book about the cybernetic ant he designed to infiltrate a hive in order to gain precious knowledge about the species. Now a beautiful young thief has approached him to recreate his experiment by designing an Alien to infiltrate an Alien hive to gain something else precious: the Alien Queen Mother's royal jelly, the galaxy's most valuable commodity.
#2: Stanislaw Mayakovsky and his new "partner" have designed a cyberantic Alien to steal the Alien Queen Mother's royal jelly, the galaxy's most valuable commodity. But a powerful corporation wants what they have, and Stan and Gill find their options pared away until there seems to be only one way out. This issue, the cyberantic Alien's big test comes as "Norbert" is sent deep into the heart of an Alien hive.
#3: Stranded on the hive world's surface with a storm coming, Stan, Julie and Gill have only one path to safety — though the Alien's hive.
#4: Surrounded by Aliens and a hostile Grant Corporation ship, Stan, Julie and Gill are running low on options. When there seems to be no possible means of escape, Stan discovers that there's always one more way out.
Plot
2195.
Reprint History
Dark Horse Comics
Aliens: Hive was first serialized and reprinted in the United Kingdom in 9 parts in Aliens magazine, Vol. 2 #1-9, from July 1992-March 1993.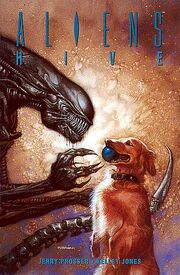 Hive was later published in trade paperback form in February 1993, edited by Kij Johnson and with a new cover by fan favorite painter Dave Dorman.
The series was again collected and republished in February 1998 under the new title Aliens, Vol. 5: Harvest. This release was part of Dark Horse's "remastered" Aliens Library Editions series — reprints that attempted to bring the content of all of Dark Horse's previously released Aliens comics in line with the updated continuity presented by Alien3. The Harvest trade paperback was edited by Lynn Adair and featured a new cover by John Bolton.
The series received its current title, Aliens: Harvest, when it was collected as part of Aliens Omnibus: Volume 2 in December 2007.
Aliens: Harvest was released digitally through Dark Horse Digital on February 20, 2013, reusing Bolton's cover art from Aliens, Vol. 5: Harvest.
The series was collected and released again as part of Aliens: The Essential Comics Volume 2, released on August 25, 2020.
Marvel Comics
Following Marvel Comics' acquisition of the rights to Alien comic books, the series was collected as part of Marvel's Aliens: The Original Years Volume One collection, alongside many other early Dark Horse stories. The collection was released in May 2021.
Behind the Scenes
Prior to release, a short preview of the comic was published in Dark Horse Insider, Vol. 2 #1.
Series writer Jerry Prosser, who has also written other Aliens comics, has mostly served as an editor of various Aliens comics for Dark Horse.
Artist Kelley Jones is known for his gothic horror-style artwork, most notably on DC Comics' Batman, having worked on such Batman stories as Batman and Dracula: Red Rain, among others. He also illustrated a number of storylines for Neil Gaiman's award-winning Sandman series by DC/Vertigo.
Trivia
Harvest was released concurrently with the novella Cyberantics: A Little Adventure, an in-universe book "written by" Harvest's lead character Stanislaw Mayakovsky that is referenced in the story. The book was actually written by Jerry Prosser.
Cyberantics: A Little Adventure places the events of Aliens: Harvest as taking place in 2195.
The comic also features the first appearance of a synthetic Alien, in the form of Mayakovsky's creation Norbert. Similar synthetics would go on to appear in several other Aliens stories.
Several copies of the Aliens: Hive trade paperback were given away as part of a contest run in Aliens magazine, Vol. 2 #15.
Gallery
Issue covers
Other