"AVAILABLE DATA INSUFFICIENT"

This article is a stub or needs expansion. Help Xenopedia by expanding it.
Specific Expansion Needed: Plot section required
Aliens: Genocide, also known as Aliens, Vol. 4: Genocide, is a four-issue limited comic book series that was first published by Dark Horse Comics from November 1991-February 1992. It was written by Mike Richardson and John Arcudi, pencilled by Damon Willis, inked by Karl Story, colored by Arthur Suydam, lettered by Jim Massara, and edited by Barbara Kesel, with cover art by Suydam. The comic sees an attempted counter-expedition to the Xenomorph home planet following the events of Aliens: Female War, orchestrated by a billionaire for dubious reasons. The series was preceded by the short story prequel Aliens: The Alien.
In the Aliens comics line, Aliens: Genocide was preceded by Aliens: Reapers, published concurrently with Aliens: Countdown and Aliens: The Alien, and was followed by Aliens: Harvest.
Genocide was later adapted as a novel of the same name by David Bischoff, published in 1993.
Publisher's Summary
#1: Humans have just pulled themselves out of the ruins caused by the Alien infestation of Earth. The last thing anyone wants to see is more Aliens, right? So why is billionaire Daniel Grant leading an expedition to the Alien homeworld?
#2: There's trouble aboard the USS Razzia, en route to the Alien homeworld to capture a Queen Mother. Daniel Grant has brought along his own "pet" Alien, but somebody wants it destroyed. Meanwhile, zero hour approaches, and even with the new Z-110 Acid Neutralizing Wardrobe, the Colonial Marines are in for a tough time against a whole planetful of Aliens.
#3: The USS Razzia touches down on a world teeming with berserk Aliens fighting a bloody civil war against a faction of Red Xenomorphs, making it hard as hell to sneak in and steal an Alien queen. But the Marines have a job to do, so they'll find a way... Meanwhile, someone's trying to make sure Daniel Grant won't be going home.
#4: In the midst of an Alien civil war, it's into the hive for Daniel Grant, Major Lee, Dr. Begalli, and Cpl. Hendrickson. Many lives have been lost, but they came for the alien Queen Mother's royal jelly and they're not leaving without it. At least, that's the plan, but one of his group has other ideas...
Reprint History
Dark Horse Comics
Aliens: Genocide was first serialized and reprinted in the United Kingdom in 4 parts in Aliens magazine, Vol. 1 #13-16, from February-May 1992.
In Germany, Genocide was serialized and reprinted in 2 parts in the anthology series Aliens #8-9, from June-September 1992.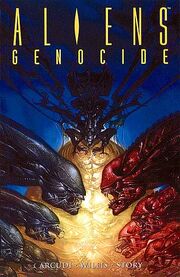 The series was first collected as a trade paperback released in December 1992, edited by Kij Johnson and with a new cover by Dave Dorman.
The second collected edition, released in February 1997, was retitled Aliens, Vol. 4: Genocide. This release was part of Dark Horse's "remastered" Aliens Library Editions series — reprints that attempted to bring the content of all of Dark Horse's previously released Aliens comics in line with the updated continuity presented by Alien3. The Genocide trade paperback was edited by Suzanne Taylor and featured a new cover by John Bolton.
Aliens: Genocide was again collected as part of Aliens Omnibus: Volume 2 in December 2007.
The complete comic was released digitally through Dark Horse Digital on February 13, 2013, reusing Arthur Suydam's cover art from issue 1.
Marvel Comics
The series is due to be collected by Marvel Comics in Aliens Omnibus Volume 1, the first Aliens collection from the company following their acquisition of the rights. The collection is due to be published in April 2021.
Behind the Scenes
John Arcudi is a veteran writer of Aliens and Predator comics, having also worked on Predator: God's Truth, Predator: Big Game, Aliens: Reapers, Aliens: Alien, Aliens: Stronghold, Aliens: Alchemy, Aliens: More Than Human and Predator: Prey to the Heavens. He was also the original writer on Dark Horse Comics' The Mask, which was turned into a theatrical film of the same name starring Jim Carrey.
Trivia
Aliens: Genocide is one of the few Aliens comics — along with Aliens: The Alien, Aliens: Music of the Spears, Aliens: Crusade and Aliens (2009 short story) — that illustrates developments on Earth after its infestation by Xenomorphs and thereby explains how the planet was able to recover from such a devastating event.
Aliens: Genocide is also noteworthy for being the first Aliens comic series to shift the focus away from existing movie characters — the three previous series had starred Corporal Hicks, Newt and, later, Ripley. In their place, Genocide creates a cast of original characters. This would become the standard template for the Aliens line going forwards.
Genocide also established several key concepts of the Aliens comics universe, most notably "Royal Jelly", a substance secreted by Xenomorph Queens that in turn forms the basis of an addictive human drug known as Xeno-Zip. Royal Jelly and its derivatives would form instrumental plot points in numerous later stories. The Grant Corporation would likewise go on to appear or be mentioned in several other comics and novels.
The concept of a "civil war" between differing strains of Xenomorph would be revisited in the novel Aliens: DNA War.
Arthur Suydam's cover for issue 3 of Aliens: Genocide is one of the most reused pieces of cover art in the Aliens comics franchise, having also been used on Dark Horse Insider, Vol. 2 #1 and Aliens magazine, Vol. 1 #15.
For some unexplained reason, Xenomorph blood in the comic is colored red instead of its typical yellow-green color.
Gallery
Issue covers
Other
External links
Dark Horse Comics' official pages on
Community content is available under
CC-BY-SA
unless otherwise noted.