"AVAILABLE DATA INSUFFICIENT"

This article is a stub or needs expansion. Help Xenopedia by expanding it.
Specific Expansion Needed: Plot section needs expansion
Aliens: Defiance - Extravehicular is a comic book short story that was first published by Dark Horse Comics in Free Comic Book Day: Serenity in May 2016. It was written by Brian Wood, illustrated and inked by Tristan Jones, colored by Dan Jackson and lettered by Nate Piekos. The comic serves as a tie-in to the 12-issue series Aliens: Defiance, produced by the same creative team.
In the Aliens comics line, Aliens: Defiance - Extravehicular was preceded by Aliens: Fire and Stone, published concurrently with Aliens: Defiance, and was followed by Aliens: Life and Death.
History and Alterations
In the original print version, the "boss" Xenomorph that Hendricks faces in the short story was a Drone, similar in appearance to the original Alien from the film Alien. However, this was altered for the digital version to be a new type of Xenomorph with a notably different carapace. It is thought the change was made at the request of the producers of Alien: Covenant, in which the original Xenomorph design reappears, but was ordered too late for physical print copies to be changed. As a result, original copies of Free Comic Book Day: Serenity contain the original design. The digital release and all subsequent reprints have featured the alternative design.
Publisher's Summary
2016 marks the thirtieth anniversary of the Aliens film, and now there's a new Xenomorph tale of terror! Brian Wood (The Massive, Rebels, Demo) and Tristan Jones (Ghostbusters, TMNT) tell a story linked to the highly anticipated new series Aliens: Defiance.
Plot
Follow Colonial Marine Private First Class Zula Hendricks, Dr. Hollis and the Davis synthetics as they deal with Xenomorphs on the Europa during an uncontrolled reentry to planetoid W76. This story takes place in May of 2138, six months after Aliens: Defiance, Episode One: Derelict.
Reprint History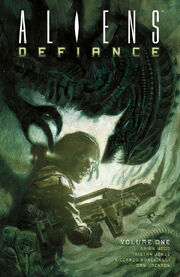 The story was collected alongside issues 1-6 of Aliens: Defiance in a trade paperback titled Aliens: Defiance Volume 1, released on January 25, 2017. The collected edition reused Massimo Carnevale's cover artwork from issue 1 of Aliens: Defiance.
Behind the Scenes
Started in 2002, Free Comic Book Day is a yearly promotional initiative designed to attract new readers to independent comic book stores. It is traditionally held on the first Saturday in May. As the name implies, it sees the release of specially printed comic book issues that are given away for free by retailers, and the event is usually also associated with the American release of a comic book-related theatrical film. Free Comic Book Day is coordinated by the industry's single largest distributor, Diamond Comic Distributors, and all of the major comic book publishers take part, including DC Comics, Marvel Comics, Dark Horse Comics and others.
The short story is not the only Aliens/Predator/Aliens vs. Predator comic that has been given away as part of Free Comic Book Day — in 2009, Dark Horse published an Aliens/Predator flip-book issue as part of the year's event.