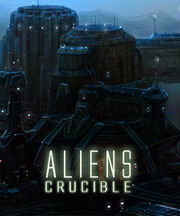 Aliens: Crucible
was a cancelled third-person role-playing video game originally developed by
Obsidian Entertainment
for the PC, Xbox 360 and PlayStation 3. It was first announced by
SEGA
on December 13,
2006
. The game was to function on an earlier version of the
Onyx
engine, which would go on to be used in later games
South Park: The Stick of Truth
and
Dungeon Siege III
.
[1]
Aliens: Crucible would have been set apart by its unique gameworld. The dark, brooding Alien universe would have been unique to RPG games at the time. The story would be set on the planet Caldera and detail a group of workers that band together to survive a Xenomorph infestation inside a large space colony. Each survivor (who would have been customizable) would have their own attributes, strengths and weaknesses.[2]
When Aliens vs. Predator was announced in February 2009, SEGA announced that development on the game had been "indefinitely suspended". No reason had been given. It was reported that several employees at Obsidian Entertainment had lost their jobs.
Following Creative Assembly forcibly pitching Alien: Isolation (then known as Alien Year Zero) in April 2009, SEGA pulled the plug on the RPG project in favour of CA's project. The game was officially cancelled in June 2009, despite the fact that Obsidian had stated that the game was almost finished.[2] Both SEGA and Obsidian confirmed its cancellation and Obsidian removed their Aliens RPG forum shortly after.
Reportedly, Obsidian had issues in marketing the game to executives. It has been suggested that there were thoughts that the Alien universe wasn't well suited to an RPG.[3]
Writer Chris Avellon described the game as "basically Mass Effect but more terrifying".[4] An interview with a former developer for the game revealed that resources would have been limited and characters would permanently die. An interesting feature would have been the situation when a player was to have been facehugged; other players would have been given the choice "to mercy kill them, put them in a sleeper and wake them sparingly if you need them, or let them pop – but the bottom line was that once they got impregnated they had an expiration date".[1]
The game was to also feature a companion wheel that could be used to issue commands to squadmates.[1]
Regarding the expansion of lore, the game was to have detailed on the background of the Caldera and even touch on the relations between the Xenomorphs and Engineers.[1]
Gallery
Videos
References
↑ 1.0 1.1 1.2 1.3 "Unseen64 - Aliens RPG: Crucible [Cancelled – Xbox 360 / PS3]". Retrieved on 2017-09-11.
↑ 2.0 2.1 "Eurogamer - Obsidian: base building in Aliens: Crucible, canned games and publishers now open to Kickstarter-sized projects". Retrieved on 2017-09-16.
↑ "IGN - PILLARS OF ETERNITY DIRECTOR GIVES DETAILS ON CANCELED ALIENS RPG – IGN UNFILTERED". Retrieved on 2018-06-26.
Community content is available under
CC-BY-SA
unless otherwise noted.