Wiki Targeted (Entertainment)
Play Sound
"AVAILABLE DATA INSUFFICIENT"

This article is a stub or needs expansion. Help Xenopedia by expanding it.
Specific Expansion Needed: Plot section required
Aliens: Apocalypse, originally titled Aliens: Apocalypse - The Destroying Angels, is a four-issue limited comic book series that was first published by Dark Horse Comics from January-May 1999. It was written by Mark Schultz, illustrated by Doug Wheatley, colored by Chris Chuckry, lettered by Clem Robins, and edited by Philip Amara and Mike Hansen, with cover art by Schutlz. The series was released alongside the tie-in short story Aliens: Once in a Lifetime.
In the Aliens comics line, Aliens: Apocalypse was preceded by Aliens: Wraith, published concurrently with Aliens: Once in a Lifetime, and was followed by Aliens: Xenogenesis.
Publisher's Summary
#1: Is it a coincidence that humans have met Aliens in our far future? Or is there something sinister unfolding in the universe that prefigures the Aliens on an almost unfathomable scale? This is what Alecto Throop is asking. Throop is a deep-space rescue specialist cut from the same cloth as the late Lt. Ellen Ripley: tough, smart, beautiful and instinctual. But her instincts weren't enough to warn her of her latest mission. She's about to find out that even a fight with deadly Aliens is nothing compared to meeting their masters... or the renegade human that has learned their secrets.
#2: An Alien "angel" has been met, as veil after veil is lifted, and Alecto Throop begins to grasp the enormity of the forces at work behind Dr. Lucien Keitel's deception. But, the Aliens may represent only the brink of an unfathomable pit of cosmic horror. Join Throop Rescue and Recovery as they follow the elusive Keitel to a petrified world that was ancient long before life first crawled on Earth. Our universe has never seemed so big... so old... or so hideously dark.
#3: Deep space rescue specialist Alecto Throop has been hot on the trail of the mysterious Dr. Lucien Keitel, always half a step behind. But now that she's found him, she may be sorry she did. Through Keitel, Throop is about to learn what may be the ultimate fate of the universe... and why it lies in the clutching claws of the Aliens.
#4: The android Baal's secrets may have been uncovered, but it's merely the first layer that Alecto Throop must peel back to get the answers she's been sent to find. There's the Alien egg found aboard Throop's ship, and it involves the ancient "pilot" race (seen in the first Alien film) that introduced the creatures to man's corner of the galaxy. Plus, the fate of Dr. Keitel is revealed... and along with it, the fate of the universe!
Reprint History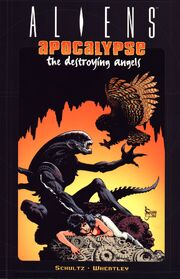 Aliens: Apocalypse - The Destroying Angels was collected as a trade paperback released in October 1999, edited by Chris Warner. The cover art was reused from issue #4, albeit slightly redesigned by Dark Horse designer Keith Wood.
The series received its current title, Aliens: Apocalypse, when it was eventually collected as part of Aliens Omnibus: Volume 6 in December 2008.
Aliens: Apocalypse was released digitally through Dark Horse Digital on July 17, 2013, reusing Mark Schultz's cover art from issue 4.
Behind the Scenes
Series writer/cover artist Mark Schultz also played a similar role as writer/cover artist of the Predator series Predator: Hell & Hot Water.
Artist Doug Wheatley has recently gained much critical acclaim as the artist of Dark Horse's Star Wars: Dark Times.
Trivia
Aliens: Apocalypse was released in 1999, twenty years after the release of the film Alien in 1979. While Dr. Caspar Tellurian briefs Alectro Throop on her upcoming mission, he refers to the discovery of a derelict ship on LV-426 by the crew of the Nostromo (as seen in Alien) as having happened twenty years prior to the events of Apocalypse. The publisher's summary for issue 1 of also mentions "the late Lt. Ellen Ripley", which implies that the events of Alien3 have also taken place.
Dr. Lucien Keitel refers to the Xenomorph species as Linguafoeda Acheronsis ("foul tongue from Acheron"). This name is also used in the Aliens: Apocalypse tie-in story Aliens: Once in a Lifetime, as well as the comics Aliens: Havoc and Aliens versus Predator versus The Terminator. Assuming that Dr. Tellurian is speaking of the year in which the film Alien took place and not the year of it's release, Keitel's research is noted to have started in 2137, 15 years after the events of Alien in 2122 (coincidentally also the year the events of Alien: Isolation and Aliens: Defiance occur). However, the planet for which he names the species was not christened Acheron until the colony of Hadley's Hope was founded there in 2157.
While Aliens: Apocalypse is a follow-up to the original Alien film, the recent prequel movies Prometheus and Alien: Covenant notably share many similarities with the events of the comic. For instance, in Apocalypse, an archeological dig uncovers abundant traces of alien life, and upon the team's discovery of a second derelict ship, they find a star map that points them toward the ship's previous point of departure. Travelling to this location, Dr. Lucien Keitel then begins performing sadistic experiments to study the alien species.
Gallery
Issue covers
Other
External links
Community content is available under
CC-BY-SA
unless otherwise noted.