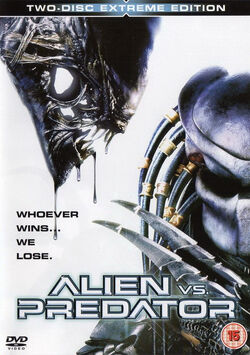 Alien vs. Predator: Extreme Edition is a 2005 two-disc DVD set containing both the original 2004 theatrical cut and a 2005 extended cut of Alien vs. Predator, along with several bonus features.
The DVD was released in the United Kingdom on March 7, 2005.[1]
Contents
Disc 1: Alien vs. Predator
Disc 2: Special features
The Beginning documentary
Production documentary
AVP/VFX documentary
4 featurettes:

Miniature Whaling Station
Trouble at the Mouth of the Tunnel
Aliens vs. Predator: The Comic Book
Monsters in Miniature by Todd McFarlane

11 deleted scenes*:

The Pizzaman
The Other Mexico
The Sister
'O Sole Mio
The Scorpion
The Predators Split Up Story
Actually It's Doctor
Making History
Teenager
Love Scene
Predator Humor

ADI creature test footage
Behind the scenes sacrificial chamber footage
Trailers
Production image galleries
Trivia
The extended cut of the film found on the Extreme Edition DVD is unique — it is essentially the regular theatrical version of the film with the expanded 1904 opening sequence from the later Unrated Edition included at the beginning, but none of the Unrated Edition's other changes. This specific version of the film has never been released in the United States.
Despite appearing as separate pieces on the DVD, the documentaries The Beginning and Production (labelled Conception and The Making of AVP on the disc menus) actually appear to be two parts of the same documentary, judging by the on-screen graphics. This is somewhat similar to how the extensive making-of documentaries created for the Alien Quadrilogy DVD box set were originally presented, except in this case, there is no option to play the complete documentary uninterrupted.
References
↑ "Blu-ray.com - Alien Vs. Predator DVD". Retrieved on 2018-09-18.
Community content is available under
CC-BY-SA
unless otherwise noted.