| | |
| --- | --- |
| | This article covers a subject that has been deemed non-canon by either the author or the Alien vs. Predator licensees, and thus should not be taken as a part of the "real" Alien vs. Predator universe. |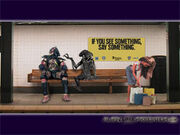 Alien Loves Predator is a popular fumetti webcomic, written by Bernie Hou. Alien Loves Predator reverses the traditional adversarial relationship of the Alien vs. Predator franchise, setting the two protagonists, Abe (a Xenomorph Warrior) and Preston (a Yautja), as close friends and roommates living in New York City.
Trivia
A Drone Xenomorph figure is sometimes used for Abe instead of the Warrior he usually is.
Preston is a McFarlane City Hunter figure.
External links