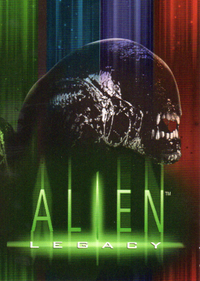 Alien Legacy: Twentieth Anniversary Edition Premium Trading Cards[1] are a 1998 90-card trading card set based on the films of the Alien franchise, published by Inkworks. As its name suggests, the set was released to coincide with the 20th anniversary of the release of Alien in 1979.
Overview
The trading cards are arranged into eight main subsets:
11 Alien cards.
15 Aliens cards.
9 Alien3 cards.
9 Alien Resurrection cards.
9 "Technology and Equipment" cards, which highlight the vehicles and locations of the films.
9 "The Art of Alien" cards, showcasing concept artwork.
18 "Alien Evolution" cards, showing the design changes made to the Alien creature over the course of the franchise.
8 "Roll Call" cards focussing on important characters from the franchise.
The set also features a title card and a special text-only "Checklist" card.
The cards consist of an image — typically a film still or a promotional or behind the scenes photograph — on the front, with a small block of text on the rear. For the film cards, this text presents a simplified, compacted summary of the film's plot. For the remaining cards, this text offers an explanation of the image overleaf, whether it be an in-universe description of equipment from the franchise or further details regarding the origins and development of conceptual artwork. The cards also feature inset artwork on the rear — the film cards merely include a closeup of the main image overleaf, but many of the other cards feature secondary images somehow related to the image on the front.
Chase cards
To coincide with the Alien Legacy trading cards, Inkworks also published several sets of limited edition chase cards, including:
9 "Poster Gallery" cards, printed on reflective trading cards, showcasing a selection of theatrical posters from the series; included in 1 out of every 17 packs.[2]
4 "Evolution of Ripley" cards, printed on reflective trading cards, detailing how the character evolved between films; included in 1 out of every 27 packs.[2]
1 "Alien Acid Bath" card, a special embossed card; included in 1 out of every 108 packs.[2]
Trivia
A sample pack of cards from the set was included in the American release of the Alien Legacy DVD/VHS box set.
References
↑ "AVPGalaxy - Inkworks Interview". Retrieved on 2014-09-16.
↑ 2.0 2.1 2.2 "Knuckle Buster's Cards on Cue! - Alien Legacy". Retrieved on 2015-08-06.
Community content is available under
CC-BY-SA
unless otherwise noted.