"What the hell are you?"

This article is about a subject that lacks an official name, and is known only by a nickname, a callsign, or an alias.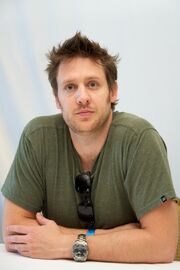 "Alien 5" was a proposed science fiction film to be directed by Neill Blomkamp. It would have been the fifth film in the Alien series, serving as "a sequel to the original Alien franchise" rather than being related to Ridley Scott's prequel series.[1] It was to have been produced by Scott via his company Scott Free Productions, with filming to take place after the completion of Scott's second prequel film Alien: Covenant.[2]
The production of Alien 5 was first announced on February 18, 2015, when Blomkamp posted a piece of H. R. Giger concept art for Alien with the caption, "Um... So I think it's officially my next film. #alien".[1] 20th Century Fox later confirmed the news.[1] An article revealing more details on the film was later posted the same day on the website The Wrap,[2] and the movie was tentatively slated for release some time in 2017.[3] However, despite a positive fan response and apparent enthusiasm from Fox, the production was ultimately cancelled.[4]
Development
Abortive attempts at a fifth film
A fifth installment in the Alien franchise has been proposed at various times since the release of the 1997 film Alien Resurrection, with numerous unrealised ideas put forward by several writers and directors. Sigourney Weaver, who played Ellen Ripley in the first four films of the series, has been a strong proponent of making a fifth Alien film, although she initially indicated that she would only agree to star if either Ridley Scott or James Cameron were at the helm.
Following the production of Alien Resurrection, Joss Whedon, the film's writer, developed an Earth-set script for Alien 5, rumoured to be titled Alien Revelation,[5] although Sigourney Weaver disliked it.[6][7] Alec Gillis and Tom Woodruff, Jr. from Amalgamated Dynamics, Inc. (the company that worked on special effects for Alien3 and Alien Resurrection) also delivered a story concept for a fifth Alien film to 20th Century Fox.[8] While their ideas were ultimately not picked up, ADI would go on to provide the creature effects for the next movie in the franchise, the crossover Alien vs. Predator, and its sequel, Aliens vs. Predator: Requiem.
Before 20th Century Fox greenlit Alien vs. Predator, Aliens writer and director James Cameron had been working on a story for a fifth Alien film, in collaboration with Alien director Ridley Scott. In an interview, Scott commented, "I think it would be a lot of fun, but the most important thing is to get the story right."[9] He later explained that his concept for a fifth film was "to go back to where the alien creatures were first found and explain how they were created".[9] In the 2003 commentary track for Alien included in the Alien Quadrilogy set, Weaver supported the prequel, stating, "I think it would be great to go back, because I'm asked that question so many times: 'Where did the Alien come from?' People really want to know in a very visceral way." Scott eventually developed the origins idea into the movie Prometheus.
On learning that Fox intended to pursue Alien vs. Predator, Cameron believed the film would "kill the validity of the franchise" and ceased work on his story for Alien 5, saying, "To me, that was 'Frankenstein Meets Werewolf'. It was Universal just taking their assets and starting to play them off against each other... Milking it."[10] (Ironically, Alien vs. Predator features a scene where a character watches Frankenstein Meets the Wolf Man on a computer, possibly an inside joke directed at Cameron's comments.) Weaver was also against the idea of making an Alien vs. Predator movie.[11] However, after viewing the finished film, Cameron later remarked, "It was actually pretty good. I think of the five Alien films, I'd rate it third. I actually liked it. I actually liked it a lot."[10]
In the years following Alien vs. Predator, Weaver continued to express interest in reuniting with Ridley Scott to revive her character for another Alien film. In the 2003 Alien commentary, Weaver and Scott both speculated on the possibility, with Weaver stating, "There is an appetite for a fifth one, which is something I never expected... It's really hard to come up with a fifth story that's new and fresh... but I have wanted to go back into space... I think outer space adventure is a good thing for us right now, 'cause Earth is so grim... So we've been talking about it, but very generally." She further indicated that she would only return to the franchise if either Scott or Cameron were directing. In a 2008 interview, she stated, "I would definitely do another if I had a director like Ridley Scott and we had a good idea. Ridley is enthusiastic about it."[12] As recently as 2014, Weaver mentioned an interest in 'finishing' Ellen Ripley's story in a fifth Alien film.[13]
Blomkamp's involvement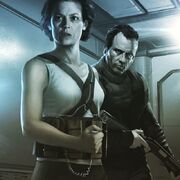 In January, 2015, District 9 director Neill Blomkamp revealed a wealth of concept art for a proposed fifth Alien film that he had been working on. The film, tentatively titled Alien: Xeno, would apparently have retconned Alien3 and focussed on an older Ripley and Hicks. Blomkamp released the unused concept pieces via his Instagram account so that fans of the franchise might have a chance to see them, and the images were met with considerable interest. Soon after the release of that artwork, ComingSoon.net asked Blomkamp whether he had met with Fox regarding his ideas, but the director revealed that he had not. "Fox was blindsided by it, which wasn't my intention," he explained. "I just wanted to share artwork with people that liked the franchise. I don't know whether it's going to happen or not. We'll see."[14]
However, Blomkamp apparently did later meet with 20th Century Fox, and on February 18 he appeared to confirm that the studio had officially greenlit a fifth Alien film with him in the director's chair. Fox later acknowledged this, stating that Blomkamp's film would be a sequel to the original four films.[1] Sigourney Weaver subsequently indicated she would be willing to participate in an Alien film directed by Blomkamp.[14] It is not yet clear to what extent Alien 5 would have resembled Alien: Xeno;[1] in an interview with Entertainment Weekly, Blomkamp stated that his original concept for the film had changed after talking with Weaver on the set of CHAPPiE and asking her for input.[15]
On March 21, it was reported that the plot of Alien 5 had been altered slightly following a meeting between Blomkamp and Ridley Scott, to avoid clashes between the film and Scott's (then-unnamed) Prometheus sequel, Alien: Covenant.[16] Blomkamp also confirmed the film would not be called Alien 5, saying, "It gives away too much if I say the title."[16] On June 29, it was announced that Alien 5 would film in Vancouver, British Columbia, Canada.[17] During publicity rounds for his new film The Martian in September 2015, Ridley Scott stated that a first draft script for Blomkamp's film had been completed, and that the movie was scheduled for release in 2017.[3] The following month, Blomkamp posted an image to Instagram showing a Pulse Rifle prop from the movie, slightly modified from its appearance in Aliens with modern RIS rails and attachments.[18]
Cancellation
On October 30, 2015, Blokamp announced via Twitter that the film had been put on hold, stating that "alien is kinda holding/ pending prometheus 2. So I shall be working on other things...as much as I love the xeno- and Lt ripley."[19] Despite this, in April 2016 the director shared a new piece of concept artwork showing an adult Newt, posting the image to his Instagram account to celebrate Alien Day.[20] However, in early 2017 he confirmed that the chances of the film happening were "slim",[21] while producer Ridley Scott also stated that the film was unlikely to happen during press rounds for Alien: Covenant.[22] In a 2017 interview with AlloCiné, Scott confirmed that Fox had decided to cancel Blomkamp's Alien 5, and that it had never developed beyond a ten-page pitch.[4]
Trivia
In a 2017 interview with IGN, Ridley Scott stated that Blomkamp's film was to be called Alien: Awakening. However, this was also previously mooted by the director as the title of his planned interquel between Prometheus and Alien: Covenant.[23]
Gallery
References
↑ 1.0 1.1 1.2 1.3 1.4 "ComingSoon.net - Neill Blomkamp is Officially Taking on an Alien Sequel!". Retrieved on 2015-02-19.
↑ 2.0 2.1 "The Wrap - Neill Blomkamp to Direct New 'Alien' Movie for 20th Century Fox". Retrieved on 2015-02-19.
↑ 3.0 3.1 "The Daily Beast - Ridley Scott on 'The Martian', His Groundbreaking '1984' Apple Commercial, and 'Prometheus 2'". Retrieved on 2015-10-05.
↑ 4.0 4.1 "The Guardian - Ridley Scott: Neill Blomkamp's Alien 5 is never going to happen". Retrieved on 2017-05-30.
↑ "Strange Shapes - Ridley Scott and James Cameron's Alien 5". Retrieved on 2015-03-05.
↑ Larry Carroll. "Will Ripley Rise Again?", MTV Movies Blog, 2009-02-20. Retrieved on 2009-02-28.

 

↑ Mark Salisbury. Alien: The Archive, p. 10 (2014), Titan Books.
↑ Alec Gillis, Tom Woodruff, Jr.. AVP: Alien vs. Predator: The Creature Effects of ADI, p. 13 (2004), Design Studio Press.
↑ 9.0 9.1 Davidson, Paul (2002-01-23). "Alien vs. Predator: Battle of the Sequels". IGN. Retrieved on 2008-01-14.
↑ 10.0 10.1 Vespe, Eric "Quint" (2006-02-07). "Holy Crap! Quint interviews James Cameron!!!". Ain't It Cool News. Retrieved on 2007-12-20.
↑ Jean-Pierre Jeunet, Sylvain Despretz, Darius Khondji, Pitof, Alec Gillis, Tom Woodruff, Jr.. One Step Beyond: Making Alien Resurrection (2003), 20th Century Fox [DVD].
↑ "OK! - Sigourney plans shock comeback". Retrieved on 2008-09-05.
↑ "AvPGalaxy - Sigourney Weaver Wants to Finish Ripley's Story in Alien 5". Retrieved on 2014-05-03.
↑ 14.0 14.1 "ComingSoon.net - Exclusive: Might We See the Return of Ripley in a Neill Blomkamp Aliens Movie?". Retrieved on 2015-02-19.
↑ "Entertainment Weekly - Neill Blomkamp Q&A: Director talks Alien reboot and new film Chappie". Retrieved on 2015-02-25.
↑ 16.0 16.1 "Den of Geek - Alien 5 won't tread on toes of Prometheus 2". Retrieved on 2015-03-25.
↑ "Venture Capital Post - Alien 5 filming begins in Vancouver; Neill Blomkamp assures film won't overlap with Ridley Scott's Prometheus 2". Retrieved on 2015-07-03.
↑ "DIRECTOR NEILL BLOMKAMP ANNOUNCES ALIEN 5 ON HOLD". Retrieved on 2015-10-30.
↑ "Twitter - Иeill Blomkamp". Retrieved on 2017-01-23.
↑ "Allocine - "Alien 5 ne verra pas le jour" annonce Ridley Scott [EXCLU]". Retrieved on 2017-04-30.
↑ "Screen Rant - Alien: Covenant Sequel May Not Be Titled Awakening". Retrieved on 2017-05-30.
Community content is available under
CC-BY-SA
unless otherwise noted.