Alien anniversary shorts

Containment

Specimen

Night Shift

Ore

Harvest

Alone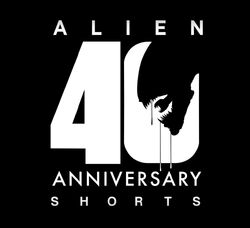 The Alien 40th anniversary short films are a series of fan-made short films created in association with 20th Century Fox and Tongal to celebrate the 40th anniversary of the release of Alien.
A total of six films were produced, each chosen as part of a contest run by Tongal to select the six best fan pitches for the project. The shorts were initially made available through IGN, with the shorts releasing weekly from March 29, 2019.[1]
Short Films
The following short films were created as part of Tongal's contest:
Production
In association with 20th Century Fox, Tongal launched their competition to select the creators of the anniversary short films on June 27, 2018, offering almost $250,000 in prizes to the winners.[2] Applicants were asked to create "a wholly original story with completely new characters" that nevertheless drew upon the aspects that made the Alien franchise so successful, to be turned into a five- to nine-minute short science-fiction horror film.[3] Each short had to feature working class, blue collar characters and feature at least one form of the Xenomorph's life cycle.[4] In particular, applicants were asked to draw upon the original film Alien for inspiration.[5] More than 550 submissions were received as part of the contest, more than any other production project on Tongal at that time.[6]
From those who applied, Tongal drew up a shortlist of 18 potential shorts whose creators then had to develop their idea and pitch it to the studio.[3] Six winning creators were then selected and each was given a budget of $35,000 with which to realize their production.[6] As well as their film, each winning applicant also had to provide a series of trailers and images that could be used to promote their short.
Release
Four of the winning short films premiered at the 2019 Emerald City Comic-Con in Seattle, Washington,[7] before all six shorts received a wider release through IGN's website and YouTube channel (much like Alien: Isolation - The Digital Series); Alien: Containment was made available on March 29 and the remaining shorts were released weekly following this, with the final the two going live on April 26, 2019, as part of Alien Day.[8] On May 5, all six shorts were made available through the official Alien Universe website, along with exclusive behind the scenes content.[1]
Home video release
In the build-up to the release of the Alien 40th Anniversary Edition 4K Blu-ray, it was announced that the six short films created as part of Tongal's contest would be included as bonus features.[9] However, this ultimately proved not to be the case.
Gallery
Videos
References
↑ 1.0 1.1 "The Hollywood Reporter - 'Alien' Celebrating 40th Anniversary With 6 Short Films". Retrieved on 2019-03-13.
↑ "AVPGalaxy - 20th Century Fox & Tongal Announce Alien Short Film Contest!". Retrieved on 2019-03-13.
↑ 3.0 3.1 "Tongal - Alien 40th Anniversary Shorts Project". Retrieved on 2019-03-13.
↑ "AVPGalaxy - Kelsey Taylor (Director of Alien: Specimen, Alien 40th Anniversary Short) Interview". Retrieved on 2019-09-11.
↑ "Studio Yutani - Creatives: Kelsey Taylor, Director of Alien: Specimen". Retrieved on 2019-09-11.
↑ 6.0 6.1 "Tongal - Creator Interview: Director Chris Reading on the Making of Alien: Containment". Retrieved on 2019-09-11.
↑ "Twitter - Alien". Retrieved on 2019-03-15.
↑ "AVPGalaxy - Fox Shares Release Order & Red Band Trailer for Alien: 40th Anniversary Shorts!". Retrieved on 2019-03-28.
Community content is available under
CC-BY-SA
unless otherwise noted.