"Seems [Mother] has intercepted a transmission of unknown origin."

This article needs to be provided with more sources and/or appearances to conform to a higher standard of article quality.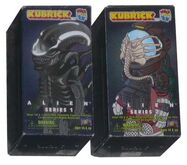 The Kubrick Alien toys were a 2003 line of block-styled miniature action figures and accessories based on the Alien franchise. The line produced toys based exclusively on the first two films of the franchise.
Products
A full list of all products released by Kubrick under the Alien line.
Alien Series 1
Alien Series 2
Alien — Nostromo Suit Dallas
Alien — Nostromo Suit Lambert
Alien — Chestbursted Kane
Alien — Nostromo Suit Kane (with Facehugger)
Alien — Flightsuit Ripley (with Cat carrier)
Alien — Chestburster (with two Eggs)
Other figures
Trivia
The Aliens Warrior figures all have smooth domed heads instead of rigid ones like in the movie. However, the Warriors in the movie were originally supposed to have domed heads.
The Alien Quadrilogy: Collector's Alien head bonus figure appears to have only been available with the Japanese release of the box set.
Gallery
See Also
Community content is available under
CC-BY-SA
unless otherwise noted.