Alien: Xeno, also known as Alien 5, was a film proposed by Neill Blomkamp as a fifth entry in the Alien franchise. It would apparently have retconned Alien3, following an older Ripley (Sigourney Weaver) and Corporal Hicks (Michael Biehn) after the events of Aliens.
On January 1, 2015, Blomkamp began releasing pieces of concept art for the film via his Instagram account, Brownsnout (neillblomkamp), but noted that the project was no longer being pursued, stating, "Was working on this. Don't think I am anymore. Love it though."[1]
Despite the project apparently not being picked up by 20th Century Fox, on February 18, 2015 Blomkamp and the studio appeared to officially confirm that he would be directing a fifth Alien film. However, it is unknown at this time whether the film will have any basis in Alien: Xeno, or whether it will be an entirely new piece of work.[2]
Development
The artwork released by Blomkamp included images of Ripley wearing an explosive vest alongside Hicks holding a shotgun, a large Weyland-Yutani facility with a jungle-like habitat, a Xenomorph Queen in the jungle, a woman looking at a cocooned victim, Weyland-Yutani's headquarters, an Engineer vessel (possibly the derelict) being studied inside a factory and lastly Ripley in an Alien/Space Jockey-like helmet and armor. Blomkamp made it clear that the concept images had been created without 20th Century Fox's knowledge, stating the studio "didn't really even know [he] was working on it".[3] He also confirmed that he "did way more artwork than [he] released, probably ten times more" and that he also did written work for the project.[4] According to him, "I have a pretty cool film just in case it happens."[4]
Of the project, Blomkamp later said in an interview with ComingSoon.net, "Fox didn't know that I was developing it, so in that sense, it was completely unsanctioned and just basically for fun. To me, it wasn't for fun. To me, that was what I wanted to do next, and I spent a lot of time doing it, and there was a lot of effort that went into. Like when I could take breaks between CHAPPiE's post-production winding down as VFX got under control."[4] He also stated an intention to use his ideas for a comic book if they were not developed in a film.[4]
Reaction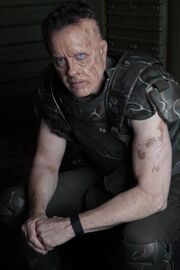 The release of the concept art caused a significant buzz among fans of the series, spawning a 42-page thread on the fan site AvPGalaxy. Some fans even petitioned to have the film made.[5][6][7][8][9][10] In response to the image of a scarred Hicks, Tom Woodruff, Jr. from Amalgamated Dynamics, Inc. (the company that provided the creature effects for Alien3, Alien Resurrection, Alien vs. Predator and Aliens vs. Predator: Requiem) recreated the picture using facial scarring makeup created by his son David and Marine armor from Aliens;[11] ironically, the screen-used armor used in the photoshoot actually belonged to Wierzbowski, whose name can be seen stencilled on the chest plate.
It is not known to what degree the leaked concept art influenced 20th Century Fox's later decision to hire Blomkamp to direct a fifth Alien film, but it seems likely that it may have played a part. Likewise, it is not known if the fifth film will be based on his work for Alien: Xeno, or whether it will feature a new story and settings.[2]
Trivia
In the comment section of the picture Blomkamp posted showing his Sideshow Exclusive version of the Alien Big Chap Legendary Scale Bust,[12] Anthony Mestas,[13] who painted the paint master of the bust, left a comment.[12]
Gallery
References
↑ "Instagram - Brownsnout". Retrieved on 2015-02-19.
↑ 2.0 2.1 "ComingSoon.net - Neill Blomkamp is Officially Taking on an Alien Sequel!". Retrieved on 2015-02-19.
↑ "ComingSoon.net - Is This Alien Sequel Concept Art from a Now-Defunct Neill Blomkamp Project?". Retrieved on 2015-02-19.
↑ 4.0 4.1 4.2 4.3 "ComingSoon.net - Exclusive: Might We See the Return of Ripley in a Neill Blomkamp Aliens Movie?". Retrieved on 2015-02-19.
↑ https://www.change.org/p/neill-blomkamp-make-the-alien-film-that-neill-blomkamp-created-concept-art-for
↑ https://secure.avaaz.org/en/petition/20th_Century_Fox_studio_Bring_back_M_Biehn_as_Hicks_and_S_Weaver_as_Ripley_to_the_new_Alien_movie
↑ "The Terminator Fans - Exclusive: David Woodruff on Alien 5 Hicks Revival, R-Rated Terminator Movie, AVP3 and More". Retrieved on 2015-02-19.
↑ "Instagram - Brownsnout". Retrieved on 2015-02-19.