Game

DLC

Deleted scenes

Goofs

Novelization

Comic

Trophies/achievements

Characters
Below is a list of characters in the 2014 video game Alien: Isolation.
Major Characters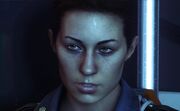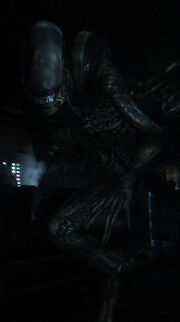 Supporting Characters
Diane Verlaine is captain of the Torrens, the ship that brings Ripley and the others to Sevastopol. She and her ship stay a safe distance from Sevastopol as the crisis unfolds, but later docks with the station in an attempt to rescue Ripley.
Nina Taylor, a Weyland-Yutani lawyer who accompanies the mission to Sevastopol. Unknown to the others, she is fact on a secret mission for the company seeking to recover the Xenomorph and return it for study.
Henry Marlow is the captain of the Anesidora, the ship that unwittingly brought the Drone to Sevastopol. After recovering the Nostromo's black box from deep space, Marlow elects to follow the flight path in the hope of salvaging the ship. Instead he finds the Xenomorph Eggs aboard the derelict on LV-426. The player briefly plays as Marlow in a flashback to the events on LV-426.
Axel Fielding is a surviving inhabitant of Sevastopol, and one of the first people Ripley encounters after boarding the station. Although initially hostile, he agrees to assist her in exchange for escape aboard the Torrens. He is also the playable character in the Lost Contact DLC.
Dr. Kuhlman is one of the three doctors who were stationed in the San Cristobal Medical Facility aboard the station. He aids Ripley in recovering medical supplies after Taylor is wounded during a spacewalk.
B. Ransome is a senior executive aboard Sevastopol, hoping to benefit himself financially from the Xenomorph that is slaughtering its inhabitants. Although he is never seen by the player, various reports and messages from him can be found on Sevastolink terminals in the game. He is also the playable character in the Corporate Lockdown DLC.
Minor Characters
Community content is available under
CC-BY-SA
unless otherwise noted.