Film

Deleted scenes

Goofs

Novelization

Soundtrack

Characters

Short films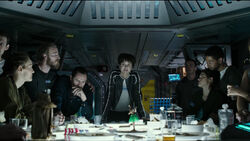 The Alien: Covenant short films are a series of short films created to accompany the 2017 film Alien: Covenant, as well as various related media releases.
A total of 12 films were produced, predominantly as part of the viral marketing campaign for Alien: Covenant, although some of the shorts were created to promote merchandise following the film's release. They were initially made available through YouTube (predominantly through the official 20th Century Fox and Alien Anthology channels), with the first releasing on February 22, 2017.[1]
Also produced was a tie-in advertisement with car manufacturer Audi designed to promote the company's moon landing project and its lunar quattro rover, which makes a cameo appearance in Alien: Covenant.
Short Films
The following short films were created as part of the Alien: Covenant marketing campaign:
Release
The short films were released through YouTube, chiefly through the official 20th Century Fox and Alien Anthology YouTube channels.
Home video release
The short films The Last Supper, Meet Walter, The Crossing, Phobos and Advent were included on the Alien: Covenant Blu-ray, while Phobos was also made available on the movie's DVD release.
The remaining short films, the five Crew Messages, She Won't Go Quietly, David's Lab: Last Signs of Life and the advertisement Alien: Covenant x Audi lunar quattro, have only ever been released through YouTube and are not available on home video.
See Also
References
↑ "YoutTube - Alien: Covenant — Prologue: Last Supper — 20th Century FOX". Retrieved on 2018-10-11.
Community content is available under
CC-BY-SA
unless otherwise noted.