Welcome to Xenopedia,
The

vs.

Wiki

BUILDING BETTER WORLDS SINCE
5. 26. 06
---
Xenopedia mourns the passing of Syd Mead, one of the conceptual artists who designed Aliens, at the age of 86.
As well as the iconic USS Sulaco, he will forever be remembered as the man behind the visionary cityscapes of Blade Runner.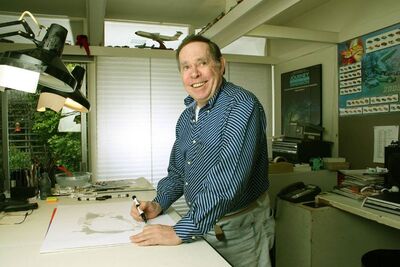 ---

Welcome, <insert name here>!
Xenopedia is a comprehensive collaborative database documenting everything in
the official Alien, Predator and Alien vs. Predator universe, including Prometheus.
Users are currently editing 4,705 articles started since May 26, 2006, and
you can help!
About this wiki · Recent changes · Active users · Policies and guidelines · Manual of style · Administrators

ATTENTION: THIS WIKI CONTAINS UNMARKED SPOILERS

January 2020
December 2019
October 2019
September 2019
August 2019
July 2019
June 2019
May 2019
Alien: Alone]] actor James Paxton here
The Motion Tracker is named in tribute to the news section that appeared in Aliens magazine.
Although Alien is lauded as a classic today, the critical reception at the time of its release was lukewarm.
During the scene in Aliens where the Colonial Marines land and deploy in the APC, Sergeant Apone tells the Marines they have 10 seconds until they arrive. If you count from Apone's line until the first Marine jumps out of the carrier and his boots hit the ground, it really is 10 seconds.
Winona Ryder wanted to use a body double to film her parts in the underwater scene of Alien Resurrection because she suffers from an acute fear of drowning owing to a traumatic near-drowning she endured at the age of 12. While she ultimately agreed to film the scene — largely because director Jean-Pierre Jeunet insisted a body double would be too obvious to audiences — Ryder suffered from anxiety on the first day of filming and some of the sequences had to be reshot numerous times.
Alien series actors Raymond Cruz, Brad Dourif, Idris Elba, Nicole Fellows, Jenette Goldstein, Leland Orser, Ron Perlman, Mark Rolston, Winona Ryder and Eddie Yansick have also appeared in the Star Trek franchise. All but three of these individuals are from the cast of Alien Resurrection.
Create blog post
Recent Blogs
"I thought I was dead when I saw it. then it just ran away, as a effing dragon."

this majestic creature is almost impossible to fight. simply because …

Read more >

Last night I watched Prometheus, and boy was I dissapointed. I wasn't expecting much, as it was made well after the original qudrilogy, and it didn't…

Read more >
See more >
Community content is available under
CC-BY-SA
unless otherwise noted.