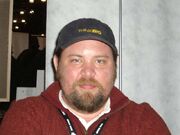 Tommy Lee Edwards is an American illustator who worked on the comic Aliens: Border Lines for Dark Horse Comics.
Biography
A versatile artist who works in a number of media, Edwards has worked in various genres including sci-fi, western, historical, fantasy, and horror.
In the comics field, Edwards has worked on a diverse range of titles including Eightball, Batman, Disavowed, Hellboy, The Insivisbles, Daredevil, The Matrix and Star Trek. He also did a well-received comics adaptation of the Blair Witch for Oni Press.
Edwards has also worked extensively in the licensing field, focusing on working with pre-existing design and actors' likenesses on projects for Lucasfilm Ltd, Paramount Pictures, Sony, and Warner Bros. Edwards has also worked a feature animation storyboard artist, and as a visual development and character designer on such films as DreamWorks' animated film Sinbad, for which Edwards storyboarded a particularly eerie sequence. His other recent recent projects have included artwork for high profile films such as Star Wars, Men in Black II, and Dinotopia. He provided the style guides for blockbusters Batman Begins, Superman Returns, Men in Black II, The Book of Eli, Indiana Jones and the Kingdom of the Crystal Skull and Harry Potter and the Sorcerer's Stone as well as providing movie posters, illustrations for role-playing games and other promotional or licensing work.
He also does book and magazine cover illustrations and has done cover work for Star Wars Insider and others.
After studying film and illustration at the Art Center College of Design, Edwards moved from Los Angeles to Chapel Hill, NC with his two children and wife Melissa. Also a comics industry professional, Melissa Edwards has work as a colorist on various books including Earth-X, Disavowed, Static Shock, and Zombie World.
Edwards has continued to work in the comics and film fields, aided by numerous trips back to Califorina and New York.
More recent projects for the artist have included Marvel 1985, with writer Mark Millar—which Millar has said "is about the real world, the world we live in right now, dealing with the villains of the Marvel Universe finding us."—and Turf with Jonathan Ross.
Credits
External Links
Community content is available under
CC-BY-SA
unless otherwise noted.