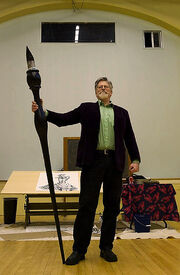 James William "Jim" Woodring (born October 11, 1952) is an American comic book writer and cartoonist who has written several comic books in Dark Horse Comics' Aliens line. With a penchant for surreal yet tangible horror writing, Woodring is highly regarded as one of the most critically acclaimed Aliens comics writers.
Biography
Born in Los Angeles in 1952, Woodring is a self-taught artist. He says his early artistic output was influenced by childhood hallucinations to which he was prone. After high school, Woodring dropped out of college and spent a few years working as a garbageman while starting out in the comics field. Some of his fledgling comics efforts were printed in underground publications such as Two-Bit Comics, the Los Angeles Free Press and his self-published The Little Swimmer.
Woodring then became a full-time freelance cartoonist, working primarily for advertising agencies and public relations companies but also working on other projects such as student films and other collaborative art.
He then landed a job with the animation studio Ruby-Spears in the 1970s. He worked designing characters and doing layouts for cartoon shows about Mr. T and Rubik's Cube. During this time he formed friendships with and was somewhat mentored by celebrated comic book artists Gil Kane and Jack Kirby, who were both disgruntled with the comics business and were working in animation at the time. Woodring also had the chance to ink and color a certain amount of Kirby's designs during his time at Ruby-Spears Productions.
In 1980, he began self-publishing Jim, an anthology of comics, dream art, and free-form writing which he described as an "autojournal". Jim was published as a regular series by Fantagraphics Books starting in 1986, to critical acclaim if less than spectacular sales, and Woodring became a full-time cartoonist. Frank, a wordless surrealist series which began as an occasional feature within Jim, became his best-known work at the time.
In 1991 and 1992 Woodring illustrated some Harvey Pekar stories for American Splendor comics.
Woodring co-created a short-lived comics series for children, Tantalizing Stories, with Mark Martin. He has also worked as a freelance illustrator and comics writer, writing comics based on Aliens and Star Wars for Dark Horse and adapting the film Freaks with F. Solano Lopez. Additionally, Woodring illustrated Microsoft's Comic Chat program, an IRC client which is notably employed in the creation of the daily Internet comic Jerkcity. He continued to produce numerous other freelance writing and cartooning projects.
In a 2002 interview with The Comics Journal, Woodring said that he was gradually leaving comics behind because they simply weren't lucrative enough, and he was increasingly concentrating on individual paintings. Still, Woodring produced a new Frank book in 2005 (The Lute String) and is working on another.
Woodring's most recent work is Weathercraft, released in 2010, featuring manhog a "unholy hybrid of human ambivalence". True to form, Weathercraft features intense surrealist art without any text. He recently illustrated the front cover, endpapers and the song 'Toy Boy' in singer-songwriter Mika's extended play 'Songs for Sorrow.'
Woodring's work has a surreal and often nightmarish quality. Woodring once told The Comics Journal that under the right circumstances he is still capable of "hallucinating like mad." The desire to draw something that "wasn't there" was always of "paramount importance" to Woodring.
Frogs feature prominently in Woodring's comics, and their symbolism seems to change from story to story. Often they are spiritually-minded but rather pompous creatures, but at other times they are more sinister and alien, at still other times they are "average joes" struggling to protect their homes or their families from predators.
Besides the characters found in Jim and Frank, Woodring characters include Pulque - a perpetually drunken, man-sized, Spanish-speaking frog-creature who inexplicably hangs around with a group of American, suburban children despite the fact that they cannot understand each other and are drawn in markedly different styles - and Big Red, a large street cat who hunts and kills with an appropriately cat-like gusto made chilling by the fact that we can understand his dialogues with his prey ("I'll kill you," shrieks a terrified possum, "I killed the old owl!" "That's nice," is Red's amused response, as he moves in for the kill.)
Woodring is something of a comics historian in his own right, and has written about T.S. Sullivant and other classic cartoonists for The Comics Journal. Woodring also interviewed Mad Magazine artist Jack Davis for the publication. During the 80's and 90's, Woodring's work started to be featured in many publications that deal with comics and culture, from the high-brow Kenyon Review and World Art Magazine to Francis Coppola's Zoetrope. Woodring singles out for praise the cartoon work of Mark Martin, Justin Green, Rachel Bell, John Dorman, Mark Newgarden, Roy Thomkins, Peter Bagge, Terry LaBan, Chester Brown, Seth, Joe Matt, Robert Crumb, Charles Burns, Gilbert Hernandez, Jaime Hernandez, Gil Kane and Jack Kirby.
In December 2006 he became one of the first group of United States Artists Fellows. His work was featured prominently at the Centre National de la Bande Dessinée et de l'Image in Angoulême, France as part of the international comics festival held there in January 2007.
Woodring received an Inkpot award at the 2008 San Diego Comic Convention, and was awarded an Artist Trust/Washington State Arts Commission Fellowship in the fall of 2008.
In recent years Woodring has also become a popular toy designer, with his strange creations sold in vending machines in Japan and available at hip comics shops in America.
For years, Woodring ran ads for "Jimland Novelties" in the back of his comics. These toys, books, and oddities included a kit to make a frog's (severed) legs swim by hooking them up to a little motor, and another kit for leaving Woodring's own fingerprints around your home. For a time, Woodring was sending his readers free drawings, called "jiva portraits," of what he imagined their souls looked like. Jivas also appear frequently in Woodring's autobiographical dream comics and in Frank, where they appear as floating, flexible, colorful, occasionally radiant bulbous spindles resembling children's tops, and are both cognizant and motile, and neither vapourous nor altogether benevolent. Woodring has occasionally referred to them as "angels". In some Jim stories the Jivas can speak, and in one he accidentally pierces one's skin and it deflates like a balloon.
Woodring is a follower of Vedanta, and aspects of this philosophy often appear in his stories.
Since April 2006, Woodring has also published a blog.
Credits
External Links
Jim Woodring's official website: http://www.jimwoodring.com/
Jim Woodring's blog: http://jimwoodring.blogspot.com/
Community content is available under
CC-BY-SA
unless otherwise noted.